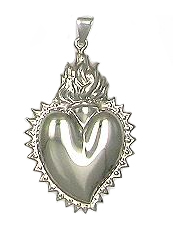 Silver chains & pendats
Line: iron wood 4 him & her
Ebony, the ethnic wood which is a symbol of bravery, and which has always been used as a talisman to bring strength, is the great protagonist of this pendant and matching ring, which evoke the flowery Art Decò. The "navettes" are mounted with a 925 sterling silver wire completely handmade.
Two colors create the beautiful chromatic effect of this pendant and long earring.
The small "navettes" in hammered pierced plate are made of 925 sterling silver and 22 carats at 3 micron gold plated silver.
A small handmade flowery engraving gives light and preciousness to these silver plate handmade hoops-earrings.
Line: iron wood 4 him & her Masculine and feminine tastes meet with the unisex pendant in sterling silver, mounted on a necklace made of waxed cotton, caoutchouc/rubber or leather. Parts created with the lost wax casting technique and stamped parts enclose an ebony disk.
Pendant in sterling silver 925 and natural stones