The Italian company of silver jewellery Stefani Argento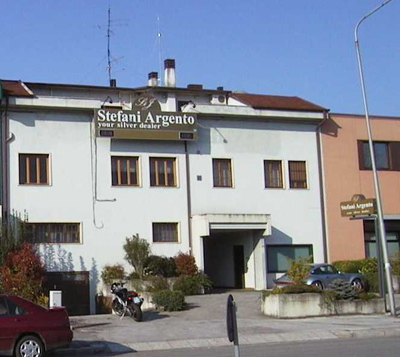 Stefani Argento: manufacturer and exporter sterling silver jewelry
We established our company in 1982. We are a manufacturer and exporter sterling silver jewelry with more than 30 years experiences. We are currently dealing with a wide range of jewelry more then 7000 items.
We produce in Sterling silver jewelry 925:Rings, Bangles, Bracelets, I.d. Bracelets, Basic chains, Chains by meter, Necklaces, Earrings with stones without stones - hoops - creolas, Pendants with stones without stones, Murrinas, Key chains (key holder), Money clips, Tie Clips, Brooches, Findings (spares), Lobster Clasp, Spring rings, Loose beads, Lockets.
Company policies:
- Lowest price (price is calculated for importers, wholesalers, department stores, chain of stores, manufactures);
- Fast delivery 4 - 8 weeks;
- 1500 k. sterling silver running Stock available for cash and carry;
- Best quality (strict quality control before arriving to customers);
- Warmly service (fax and email reply within 24 hours).
Company working system:
When we receive fax/email from you, we will answer you within 24 hours .
Pricing system:
Prices are in EURO. They can be :
- labor price per gram (GR) (silver excluded) - labor per piece (PZ) (silver excluded) - labor per piece (TC) (silver included) all the documents (purchase order confirmation, packing list, invoice, Eur1, T2, custom documents) are issued in euro. - all the prices are export prices taxes excluded.
Pure silver quotation:
Pure silver is calculated at the silver quotation of the delivery day or of the day of the payment.
Payment terms:
We need 30% deposit at the order confirmation. The balance has to be wired on proforma invoice at the shipment day. Invoices, packing list , price list are issued in euro currency.
Note for customer from inside UE:
If you are from inside the UE we need your VAT/NIF/IVA number
Delivery time:
Basic chain in rolls and findings: 1-2 weeks Basic chain 2-3 weeks Fancy items 4-8 weeks.
Transport:
p to the customer choice: Air cargo, UPS, FED.EX,TNT
We suggest:
- up to 20 kilo (net silver weight) UPS door to door insured service;
- between 20 and 30 kilo UPS or air cargo;
- between 30 and 60 kilo air cargo or we suggest you let pick up direct;
- more then 60 kilo we suggest you let pick up direct.
If you are UPS/ FED.EX/TNT customer please supply your customer code number .
IMPORTANT
Absolutely we do not deal with privates and we do not send info to privates.
---